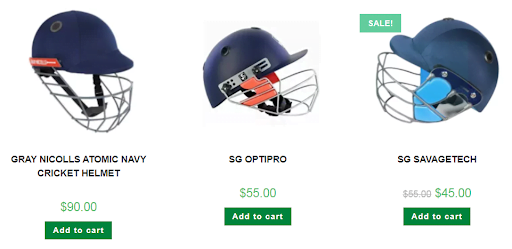 The fandom around cricket never seems to go down; the sport gets new fans and players each day that are passionate from the bottom of their hearts. Be it playing the sport, supporting your country's team or simply watching matches with friends, Cricket is a sport that brings people together and develops their skills. To play the sport and to play it well, you need good quality cricket gear (Pakenham). Here, at SSR Sports, you can get all necessary equipment you require, whether you are a batter, bowler or a fielder, and also various accessories to accompany it.
Protect Yourself with the Best Protective Cricket Gear!
When you play cricket, either casually or professionally, you need to be well dressed for it because with sport, comes the risk of injury, especially with sports like cricket where the equipment can hurt with one wrong swing. Protecting yourself is always worth it. Buying a cricket helmet online could be the first step to a safe and healthy game!
SSR Sports offers the best cricket gear with great deals online. Many of the products here are offered at discounted prices that you can choose from. Apart from cricket helmets, there are a lot of protective gear that a professional or an aspiring cricket player should use; accessories like abdomen guards, wicket keeping gloves, batting gloves, thigh pads, batting pads and inner gloves are available online.
Wearing the entire cricket outfit along with the necessary protective accessories is not just to follow the rules of the sport or to protect you; it also gives you the confidence that you are safe which leads to you giving your best shots as you are not afraid to unleash your full power on the field.
Where to Get Offers on Cricket Equipment?
If you are in or around Pakenham and are looking for good deals on cricket equipment, then SSR Sports online is the best option for you as it offers all the products from top-notch brands at competitive prices. To get the best cricket gear in Pakenham, start browsing the website and adding to cart your favourite cricket gears offered at the best prices.
When a high-quality product is offered at a great price, it is the best option to choose. Get a grip on your game with batting grips and protect your face which might add to the list of popular cricket players one day if you keep at it, along with other accessories, here at SSR Sports.